Proficient Deer Stalker Certificate
(PDS1)

Nationally recognised and Accredited course
The Proficient Deer Stalker Certificate Level 1 is a nationally recognised Deer Management Course, that has been accredited by the UK's largest, land-based awarding bodies; LANTRA and UK Rural Skills (UKRS).
A few more words about the PDS1 Certificate
Accredited by both LANTRA and UK Rural Skills (UKRS), the excellent online version of the hugely popular 'Proficient Deer Stalker Certificate Level 1' (PDS1), enables candidates to complete and obtain the theory element of the PDS1 Certificate online at a time and place that suits you.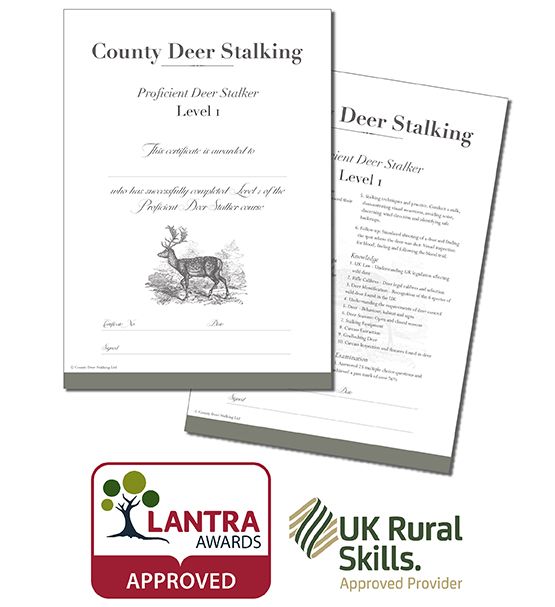 Through a series of online modules and classes delivered by a professional deer stalker and 'Approved Witness' in Deer Management Qualifications, candidates are guided through the PDS1 syllabus, a course that has been accredited by both LANTRA and UK Rural Skills (UKRS).

The online version of the PDS1 serves to educate and inform candidates about the practical elements involved in becoming a trained hunter, such as safety, marksmanship and rifle handling. Having completed the PDS1 Theory, candidates are awarded a certificate verifying what they have learnt.

For those candidates who wish to then compliment the PDS1 theory with the practical assessment, it couldn't be easier. We provide a list of approved verifiers in your area who will be able to sign off on the practical elements of the course*.

The Proficient Deer Stalker Certificate Level 1 (PDS1) is an established and widely recognised deer management qualification that not only empowers candidates, but is widely recognised as a crucial first step in obtaining a Firearm Certificate, or variation to an existing certificate to shoot deer.

Your instructor throughout the course is Peter S Jones a well recognised and highly experienced full-time, professional hunter. Read more about your instructor here

The PDS1 Certificate is perfect for the beginner or for anyone wishing to learn to hunt deer, and is an ideal way to make a start in the exciting world of Deer Stalking.

*NB: Normal CDS rates apply for the Practical Assessment
Meet the instructor
Peter S Jones
Peter S Jones BA (Hons) is a well known face in the industry, life-long environmentalist and highly experienced professional deer manager, who has dedicated himself to the betterment of deer and large game through their careful management and selection.

Peter has been stalking & hunting deer and other large game throughout the UK, Europe and Africa for the last 25 years. He holds PDS1 & PDS2 and DSC1 & DSC2 and is an 'Approved Witness' for the 'British Deer Society' in Deer Management Qualifications and Chief Instructor at County Deer Stalking.

In addition to many years spent providing expert tuition and guidance to hunting clients, Peter has also been responsible for delivering training and weapon familiarisation programs to Zoos, Enclosures and Wildlife Parks. Prior to this, Peter also served for 10 years as a Metropolitan Police Detective in the MPS Crime Squads & CID.

During his career, Peter was awarded a 'Commendation for Bravery & Professionalism', for his handling of an armed incident, before retiring from the force with an 'Exemplary Service Certificate'. Peter's training and service in the Police and his in-depth knowledge of firearms legislation and the law surrounding firearm ownership, gives him a unique skill set that is of huge benefit to academy candidates and those taking their PDS1 Certificate.
Course reviews
I found the PDS1 course extremely beneficial and informative. The overall instructional technique was brilliant with all subjects explained clearly.
G. Deakin
The overall delivery was superb and the ability to be able to tag on the practical element of the course to a live stalk was just what I was looking for.
N. Yahya
Get started and take your learning to the next level!
Created with